Heavy Duty Loading Bridges
These Heavy Duty Loading Bridges are similar to our Removable Loading Bridges, but with a much higher capacity of up to 3420kgs. The central section of the ramp is reinforced, making it suitable for heavier loads. The width of these ramps is completely customisable, according to your needs, which is why it isn't specified in the table below.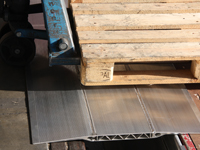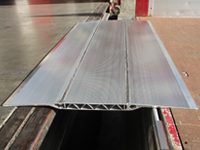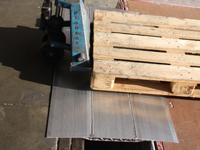 SKU
Capacity (kg)
Length (mm)
Max load height (mm)
Weight (kg)
Price
TRP-627/2TL
3420
627
30
17

Ex VAT:

£345.00

Inc VAT:

£414.00

Built to Order

TRP-752/2TL
2895
752
40
19

Ex VAT:

£355.00

Inc VAT:

£426.00

Built to Order

TRP-877/2TL
2510
877
45
22

Ex VAT:

£375.00

Inc VAT:

£450.00

Built to Order

TRP-1000/2TL
2215
1002
50
25

Ex VAT:

£425.00

Inc VAT:

£510.00

Built to Order
We recommend that your custom width be at least 0.70m larger than your load width. Ideally, for workers' safety, your loading bridge should be the same width of the transport vehicle's load width.
These ramps come with rest on connections – simply position your bridge between the transport vehicle deck and your loading surface (such as a loading bay) and go! All you need to ensure is that the rest on connections must rest against the load platform and transport vehicle deck for at least 0.10 m.
Lastly, ensure that the slope between the two surfaces should never exceed 12.5%, or 7 degrees.
Back to top