Modular Wheelchair Ramps
The modular wheelchair ramp system from The Ramp People has been carefully designed from adjustable and fully modular components that are manufactured and stocked in quantity ready for quick dispatch and installation. Featuring a 5 year guarantee these ramps - these tough and durable systems can be very quickly specified by one of our team. Please phone our team for more information.
Our narrower system is ideal for adapting private addresses to become easily wheelchair accessible. Similar systems can be supplied for schools, doctors surgeries and care homes. These systems are essentially separate free standing structures so don't require any modification or building work and can be dismantled and re-used elsewhere.

Our wider systems are ideal for providing access to public and commercial buildings. As the systems can support up to 400kg per square meter, they don't have to be used for wheelchair access alone and so can be used as a loading/unloading solutions as well as general and disabled access. These systems are fully modular and can be used to provide temporary or permanent access to portacabins, marquees, shops, hospitals, stages, theaters, offices.
These systems are both designed to be portable and temporary - therefore they do not need to comply with building regulations (Part M or Part K) - if you require your system to be compliant please get in contact as this something we can provide but the specification needs to be altered.
We also offer to help customers specify what they need and can provide full quotations to businesses and private individuals, including creating 3D drawings showing the ramp's layout.


Modular Wheelchair Ramp Features Include:
Fully modular design, that can be adapted and changed easily

Designed to fit right up to the door

Long Life Galvanised Zinc Coating Prevents Rusting

High Capacity Construction

Available in 900mm and 1300mm internal usable widths

Multiple Handrail options including customised powder coated options

Up to 1400mm high as standard

Up to 400kg/m capacity

5 Year Guarantee
We offer a buy back service up to 20% of the original price. If you are interested in this, please don't hesitate to contact us.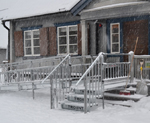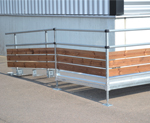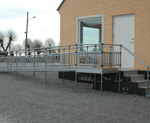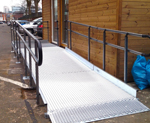 The Ramp People are proud members of the BHTA and full subscribe to the BHTA Code of practice.