How long should the ramp be?
For Truck & Van Ramps Health & Safety recommend that no gradient greater than 30% (16.5 degrees) should be used. Furthermore, no TUV Certified Ramp is designed to exceed this gradient. To calculate your gradient simply multiply the bed height of your vehicle by 3.3 to give the optimum length. If loading long/heavy cases or pallet trucks, we recommend much longer.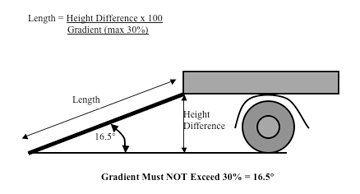 Do the ramps have a minimum load height?
Yes, the minimum load heights are listed on the products. 
For custom solutions, please contact our ramp specialists.
Can the ramps be used over the max load height?
No, the ramp will be too steep. Using the ramp above it's recommended load height may cause accident, injury or death and will invalidate the warranty.
Should I allow extra capacity in the ramps for safety?
No. Our ramps are manufacturer and engineered to European TUV standards, which require us to build in a 200% safety margin. please note if ramp is overloaded this will void warranty.
Can I use a winch to assist loading equipment?
Winches fundamentally alter the normal weight distribution when loading machines and equipment. Stated weight limits are dramatically reduced when using a winch. Winches can be used but great care and attention must be taken, please speak with our sales advisers for help specifying ramps. The most important thing is to keep the rope of winch parallel with the ramp. If you intend to use a winch please make this clear to your sales adviser before purchasing.
How does the ramp connect to the vehicle?
All of our truck & van ramps use a rest on connection which rests onto the floor of the vehicle. The Premium van ramps & the truck ramp range come supplied with a locating pin which can be used to anchor the ramp if a matching hole can be driven into the floor of the vehicle.
How grippy is the surface?
As grippy as we can make it without causing damage to tyres or excessive wear to the surface. Our ranges have light serrations cut across the width which is suitable for dry, clean conditions. If you plan to use in wet or muddy conditions further grip might need to be added such as griptape or rubber covering.
Can the ramps be customised? 
We can customise the ramps to your required length and width, we also have alternative connection types available and can built the ramps for various capacities. The lead time on built to order items is normally 3-4 weeks. 
What is the difference between the premium van ramps and the economy ramps?
Our premium ramps are TUV certified and produced in Italy, they can be customised if required. The entry onto the ramp for the premium version is slightly smoother than the economy version. The premium version holds a higher capacity (1,000kg+) than the economy version. 
Our extensive range of Truck & Van Ramps can be viewed here.