Everything you need to know about The Ramp People team
Founded in 2006, the team at The Ramp People™ have spent the intervening years honing our loading expertise, as we strive to become a centre for ramp excellence. Combining an expert, UK-based sales team with highly effective administration and logistics management, we aim to supply our customers with the best ramp for their needs, at the keenest price, and as quickly as possible. Our diverse team comprises of English, French, Polish, Portuguese, Brazilian and German nationals. We have warehouse facilities in the UK and in Germany to ship to our UK and European Customers as fast as possible. For those purchasing from the Republic of Ireland, please visit our Irish website The Ramp People.ie.
As part of our drive to be a centre for ramp excellence, we strive to ensure that we keep up to date with industry developments. As a result, we are constantly unrolling new innovations, whilst also continuously assessing the effectiveness and appropriateness of existing products. Part of our industry-facing focus has resulted in our joining the British Healthcare Trade Association, where we subscribe to their code of practice – the only Trading Standards approved code in our industry.

As part of our outward facing initiatives, The Ramp People™actively seek new and exciting sponsorship opportunities.
Customers are at the heart of our business, and we aim to make sure that you have the best possible experience with us. As part of this, we have uploaded our Trust Pilot reviews onto the website, to ensure that we are constantly aware of what our customers think about us, and are at hand to deal with any issues, should they arise. We would be delighted to hear any feedback from you, so please feel free to contact us directly though the email address at the top of the page.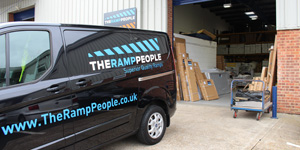 Need more ramps?
Need help finding a wheelchair ramp for disabled access or a loading ramp for use on site? Call our friendly customer service team or complete our enquiry form.