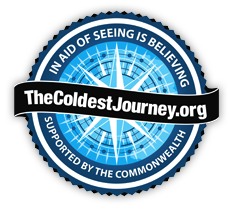 Welcome to our partners and sponsorship page. At The Ramp People we are proud to offer our support to a number of different charitable organizations, including the ones shown below. If you would like any further information, please contact us.
Sir Ranulph Fiennes lead a team of explorers to conquer the last great polar challenge: crossing Antarctica in winter. Their remarkable attempt is seeking to raise $10m for Seeing is Believing, the international charity which aims to eliminate avoidable blindness and visual impairment across the world.
The Ramp People supplied the expedition with a pair of TRP120S/6/55. These ramps will be used by the expedition's vehicles for crossing great ice crevasses and ravines.
Read about their adventure on their website here: http://www.thecoldestjourney.org/