The Ramp Peoples wheelchair ramps are the UK's best-selling premium wheelchair ramp; used extensively by the NHS, nursing homes and other idustries. We use aerospace technology on our premium wheelchair ramps making them incredibly strong and lightweight. read more
We have a wide variety of ramps for sale, from non-folding ramps to cross-fold ramps, length fold ramps and bi-fold ramps, all with full width non-slip surface and fold away handles. The non-slip surface on all of our wheelchair ramps is glued onto the metal ramp, therefore these ramps are not suitable to be kept outside and exposed to weather. You can attach the ramps to any surface simply and our ramps require no modification when being loaded onto a vehicle.
We also for extensive length have our joining support for all premium wheelchair ramps.
All manufacturing processes are carried out using the very best materials and equipment available.
Premium Wheelchair Ramp Features Include: 
Anodised aluminium kerbs and lip prevent stains and corrosion
Full width non-slip surface
Ergonomic fold away handles
Unique lip design gives incredible grip at each end and allows the ramp to be used either way round
High visibility track indicators on some models help those with poor sight
Aerospace technology ensures incredible strength yet lightweight ramps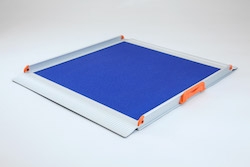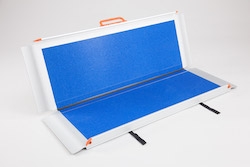 Please browse our range by clicking images above or by using the menu bar at the top of the page. 
The Ramp People are proud members of the BHTA and full subscribe to the BHTA Code of practice.