Aluminium Container Ramps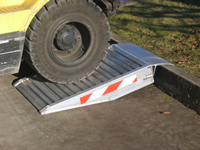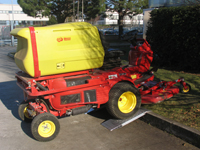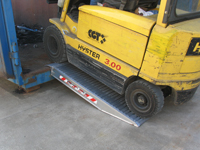 SKU
Capacity (kg)
Height (mm)
Height of Ramps Profile (mm)
Length (mm)
Max Load Height
Min. Load Height (mm)
Weight per Ramp (kg)
Weight Per Pair (kg)
Width (mm)
Minimum Track Width (mm)
Maximum Track Width (mm)
Price
TRP40B2/05
1250
40
40
500
150
120
3
6
215
150
220

£306.00

£255.00

TRP40B2/08
1250
40
40
800
180
160
4
8
215
150
220

£324.00

£270.00

TRP40B3/05
2000
40
40
500
150
120
4
8
315
150
220

£330.00

£275.00

TRP40B3/08
2000
40
40
800
180
160
6
12
315
150
220

£378.00

£315.00

TRP80/05
3000
65
67
495
150
120
3.5
7
300
150
220

£432.00

£360.00

TRP80/08
3000
65
67
795
180
160
5
10
300
150
220

£498.00

£415.00

TRP140/10
7500
140
140
1000
210
170
15.5
31
510
200
430

£726.00

£605.00

TRP150/12
7500
150
150
1250
260
220
20.5
41
510
200
430

£846.00

£705.00

TRP150/15
7500
150
150
1500
310
270
22
44
510
200
430

£930.00

£775.00

TRP150/17
7500
150
150
1750
360
320
25
50
510
200
430

£1,218.00

£1,015.00

TRP160/20
7500
160
160
2000
400
370
30
60
510
200
430

£1,392.00

£1,160.00
Perfect for any industry, our ramps can also all accommodate plant machinery and loading vehicles and our short ramps and car ramps come from a variety of ramp series that are ideal for forklifts and trailers allowing you to cross pavements, steps and small obstacles as well allowing easy access for loading and unloading any container.
Please be aware that if you request a hook end to your vehicle ramp, it may be slightly shorter than the advertised length. Our friendly sales team will be able to assist you with any queries regarding your purchase.
Usage guidelines and safety information for this product can be found here.

This selection of loading ramps for sale can be used with a pallet truck as well as forklift trucks, scissor lifts and all other manually operated machinery; allowing you to secure multiple ramps as needed around your working site. Choose capacity weights from 1250kg to 7500kg along with varying heights and widths to suit your equipment, these access ramps secure safely to your van or pavement and we can provide additional rest or hook ends to buy as needed; please get in touch with our customer support team to discuss any questions you may have.