Road Safety & Traffic Calming
Speed Bump Signs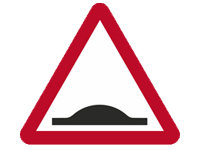 Do you need speed bump warning signs? 
The Highways (Road Humps) Regulations 1996 state you must provide the appropriate warning signs as per the Traffic Signs Regulations on roads where there are speed bumps to ensure safety of road users is maintained. We provide a range of CE-marked and compliant speed bump signs which confirm to European standards and meet the requirements of BS EN 12899-1:2007 Class RA1. The speed bump signs can be wall or post mounted depending on your requirements. They are provided in high colour contracts to ensure visibility. 
Wheel Stops & Parking Blocks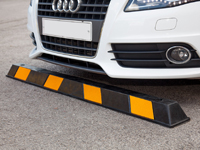 What is a car stop?
Car stops/wheel stops are used to reduce vehicle damage within areas such as car parks, driveways and industrial units. The parking blocks guide the driver into the space and alert them when they are near to a wall/fence. The wheelstops are secured into place using fixings, we provide fixings which are suitable for tarmac and concrete. They are provided in a variety of colours to increase visibility and to prevent them being seen as a trip hazard. 
How wide is a parking block?
We have a variety of parking blocks available varying in sizes from 550mm - 20000mm. 
Trench Covers & Road Plates
What are trench covers and road plates? 
Trench covers and road plates are used to cover holes in the pavement or road to increase safety. They are often used when building works are occurring. They provide a safe route for pedestrians and vehicles to pass over. Our trench covers and road plates are provided in yellow to ensure high visibility. 
Kerb Ramps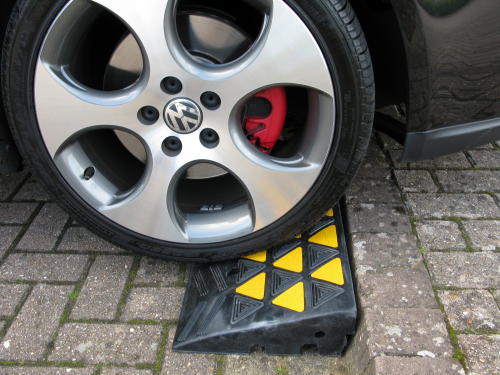 What height kerb ramp do I need? 
We recommend measuring your kerb to identify the required height as kerb heights can vary. We have a variety of kerb ramps available from 70mm upwards, they are provided in plastic and rubber with capacities up to 15,000kg. 
How do I secure a kerb ramp to the ground? 
We provided fixings for concrete and tarmac with our kerb ramps to allow you to secure these in place. 
Can I drop my own kerb legally? 
You will need to secure planning permission to legally drop your own kerb and therefore our kerb ramps are a great solution if you wish to overcome a kerb as they are portable, temporary solutions which can be simply put in place when required. The cost of a kerb ramp is also much cheaper than the cost to drop a kerb. 
Traffic Cones 
How much is a traffic cone?
The prices vary. You can view our traffic cones prices on the product pages. 
What rules affect traffic cones?
Chapter 8 Traffic Management outlines the types of cones, colours and height of cone required to be used in various situations. There are also rules in relation to the distance apart of the cones and the pattern they should be placed in. The regulations were created by the Department for Transport. 
What do the colour of cones mean? 
Orange cones are the most commonly used cones within the UK and are commonly used to block off areas of the road, highlight roadworks and hazards. Green cones represent the opening to access lanes. Blue cones make drivers, especially lorries, aware of overhead structures, such as cables or bridges. Yellow cones highlight no stopping zones. 
What are traffic cones used for?
Traffic cones have various uses. The main purpose is to act a temporary structure to either warn drivers of risk or instruct them of an alternative route they should be taken.  
Are traffic cones heavy?
Traffic cones vary in weight depending on there height, from 6kg - 7.5kg. 
Why are traffic cones different heights?
The height of the cone required depends on the speed traffic travel at on the road, for example, in 60mph roads the cone must be 750mm high or more. 
Barriers 
What is a Chapter 8 barriers?
Chapter 8 Barriers refer to pedestrian barriers which are compliant with Chatper 8 Traffic Management, as set out by the Department for Transport. 
What is the purpose of a barrier?
A blow moulded safety barrier prevents pedestrians walking into dangerous areas and therefore in turn reduces risk.