Product Guide Speed Bumps & Speed Cushions
Speed bumps are one of the most essential traffic calming tools around. There is a wide range of options available including height and length measurements. To help you understand our speed bump options and make the right decision for you, the speed bump guide explains in detail what you can expect from each of our speed bump options and which measurements are available.
Contents:
Original speed bump kits: Speed bump capacities and speed limits
NEW: Extra wide speed bump kits
Original speed bump kits
Our original range of speed bumps is the most widely used and features three different heights ranging including a heavy duty speed bump option. These classic speed bumps are also known as sleeping policeman and are easy to install yourself on either concrete or tarmac surfaces.
Main features:
Speed bump capacities and speed limits
Our speed hump kits come in three different heights to suit various capacities and speed limits. Our 60mm high speed bumps are our heavy duty kits and can slow down vehicles up to 60,000kg capacity to 10mph, perfect for areas that may have more heavy-load traffic such as HGV's.
Our 50mm and 75mm speed humps can handle capacities up to 20,000kg for areas that mostly deal with regular car and smaller vehicle traffic. Our 50mm speed bumps can slow traffic to 10mph while our 75mm kits can slow traffic to 5mph. Take a look at the handy table below to help you decide which speed bump option meets your capacity and speed limit requirements.
50mm High - 20,000kg Capacity
shop now
60mm High- 60,000kg Capacity
shop now
75mm High - 20,000kg Capacity
shop now
All of our kits are available in a range of different lengths. You can buy complete kits at different lengths that come with two end caps, plus you can buy middle sections and end caps on their own to extend any of our kits even further.
Speed cushions
Our speed cushions come in a choice of either black or red. They are provided in a set site. Speed cushions are great at slowing traffic down just like other speed ramps, but they're also easy for emergency vehicles to drive over so they're perfect for routes that might experience more emergency traffic than usual. Other features include:
Finally, take a look at our video and what speed limits and capacities you can expect from either our black or red speed cushions
| | | | | |
| --- | --- | --- | --- | --- |
| Height | Width | Length | Max. Capacity | Max. Speed Limit |
| 65mm | 1,800mm | 2,000mm/3,000mm | 20,000kg | 6mph |
Buying and fitting your speed bumps or speed cushions are quick and easy, just bolt them down to fit and ready to use. We provide a detailed fitting instructions along with handy videos for all of our speed ramp options. You'll also find a wide range of speed bump signage to help ensure your system is as safe as possible.
All our speed bumps and speed cushions are supplied with 14mm x 280mm long SDS Max drill bit free of charge and a universal fixings suitable for tarmac and/or concrete, as per image below: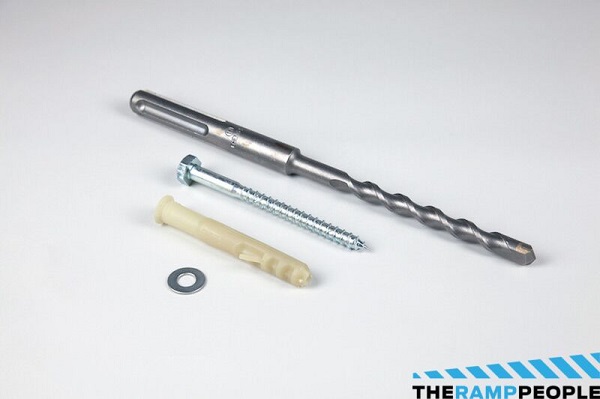 For more information on how to install, please see our installation guide:

Our range of Road Safety & Traffic Calming have all been constructed to meet legal requirements as well as speed bump best practices, plus they're quick and easy to use. For more information please contact us.