Speed Bump Safety: Regulation Guide
Throughout the UK and Europe speed bumps and speed cushions are used to slow down traffic on roads, outside schools and in private housing areas. In turn, flow plates are commonly used to control the flow of traffic in areas, for example car parks and industrial estates.
Speed bumps have been proven to increase safety, for road users and pedestrians alike. Studies have proven that speed bumps have reduced accidents and dangerous driving. They are especially popular in high-risk areas such as schools or roads with a high volume of pedestrians passing through.
At The Ramp People we provide an extensive range of speed bumps, speed cushions, road signs and flow plates for private and public use. The speed bumps are speed cushions are provided with fixings for tarmac and concrete, allowing you to easily put these in place, especially after viewing our handy Speed Bump Installation Guide. Our extensive range of speed bumps are produced from rubber to ensure they are heavy duty and long lasting.
The Highways Regulations (Road Humps) 1999 provides details of speed bumps, or 'road humps' requirements within the UK. We recommend reading this prior to installing speed bumps/road humps to ensure you act in line with regulations. The regulations cover various rules, for example the highest point of a speed bump cannot be less than 25mm, or more than 100mm high.
The Traffic Signs Regulations provides details as to the requirements of having signs to highlight the location of speed bumps. This is also mentioned within the Highways Regulations which states 'appropriate signs' are required. We do offer a range of signs, including wall mounted and post mounted signs.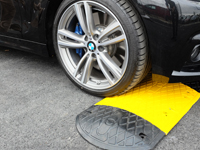 What Are The Different Types Of Traffic Control?
Am I Allowed To Install Speed Bumps?
Prior to installing speed bumps, it is of course essential you gain the land owners permission as you will need to secure them into the ground using the fixings provided for tarmac and concrete. Local authorities and councils have their own policies relating to speed bumps and road safety so, if you plan to place speed bumps on a public road it is important to check with your local council prior to doing so.
How High Should Speed Bumps Be?
In line with the Highways Regulations, speed bumps must be no less than 25mm high and no more than 100mm high. It is important speed bumps are not to steep to ensure vehicles can safely pass over them. The maximum gradient recommended for speed bumps is a 1:10 gradient. Shallow gradients may be required, for example if the vehicles passing over them have low ground clearence or if emergency vehicles regularly undertake such routes. Speed bumps that reduce cars to 10mph or less can only be used on private roads.
Location
Speed bumps can only be placed in roads with a speed limit of 30mph or less. The Highways (Road Humps) Regulations 1999 outlines various rules in relation to where speed bumps cannot be located. For example, speed bumps canot be placed within 30 metres of a zebra-controlled area, including puffin crossings. Speed humps also cannot be located within 20 metres of a rail track, or within 25 metres of a bridge over which the highway passes.

Lighting
It is essential that speed bumps are clearly visable to drivers and pedestrians. Lighting can include street lighting and / or reflectors on the speed bumps.
Signage for Speed Bumps
It is essential you alert road users of speed bumps and speed cushions. Signage is a perfect way to do this. The Traffic Signs Regulations state you must consider the correct warning signs for the speed bumps you are using on the road. We provided a range of 5mph and 10mph speed bump signs which can be wall mounted or post mounted. The signs are CE marked and include reflective sheeting to ensure they are highly visable to road users.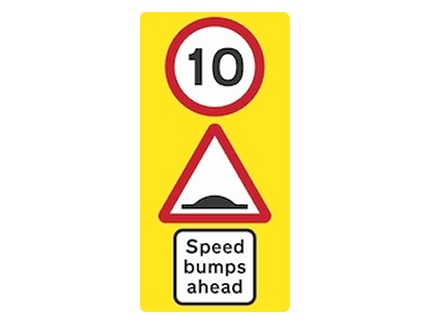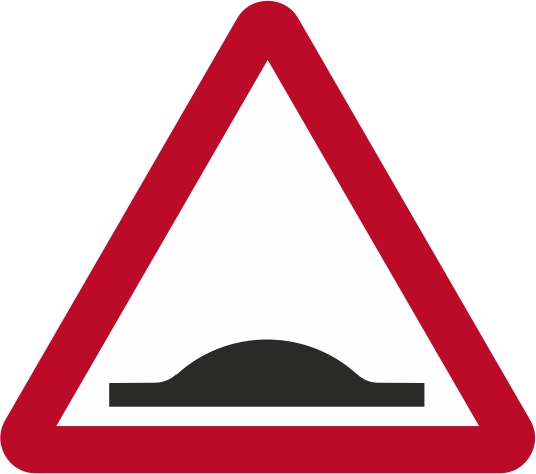 Who To Inform Prior To Installation
Before you install speed bumps, you are legally required to inform those who will be affected by the speed bumps. For example, it is important to inform emergency services including the police, ambulance and fire brigade. You must also inform residents in the area, transport services (if they operate on the road), traders, the council and any other organisations who may be affected.
Installing Speed Bumps
The Ramp People provide fixings for tarmac and concrete, and a free drill bit, with all speed bumps and speed cushions. The speed bumps and speed cushions are easy to install, any confident DIY'er or handyman can install these. We also have a handy installation guide. Our Product Guide for Speed Bumps & Speed Cushions can be found here.
Additional Information
If you have any further questions regarding speed bumps or speed cushions please contact our team who will be happy to assist.