How To Overcome Thresholds In a Wheelchair?
Overcoming thresholds within the home is a common difficulty for many wheelchair users. Here at The Ramp People we offer an array of ramps which can help you to overcome the threshold, whether it's a PVC doorway or wooden threshold our team are happy to help.
All you need to check before ordering you need to measure the vertical height of the threshold and the type of wheelchair, manual wheelchair, powered wheelchair or mobility scooter, our ramp are also suitable for rollator or any other mobility aid equipment. Once you have this height, you can simply check and select one of our options or If you are unsure you can always ask our team for assistance.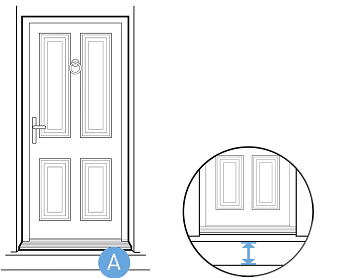 Rubber Threshold Ramps
For manual, electric wheelchairs & scooters
For heights up to 100mm/4inches, you can use Rubber Threshold Ramps on either side of the doorway. If there is a smaller ledge within the PVC doorway, you can use a third rubber threshold ramp push up against this lower height to help the user easily pass the threshold and protect the threshold from the weight of the chair. As the ramps are rubber you can cut these widthways to your required size. They also can be left in place and left outside, in a sense you can use them like a doormat.
Aluminium Bridge Ramps
Suitable for Manual Wheelchairs only
The Ramp People offer a range of aluminium bridge ramps, perfect for manual wheelchairs. Due to the design, the height on both sides of the threshold needs to be the same to ensure the bridge ramp rests securely on the ground. The ramps are available in heights up to 4"/100mm. They are all provided with an anti-slip surface. Simply rest over the threshold and start using, no installation is required.
We have two aluminium bridge ramps available. One is plain aluminium. The other option is provided with a black grip surface and a support design which in turn protects the threshold. The ramps hold capacities up to 350kg, more than suitable for the user and anyone pushing the wheelchair over the ramp.
Fibreglass Threshold Ramps
Suitable for manual or powered wheelchairs
Designed for a variety of applications and situations, the fibreglass threshold ramp are a great lightweight option to carry and easy to use.
Adjustable Fibreglass Bridge Ramp
Our Folding Fibreglass Threshold Ramp is a perfect, lightweight solution for overcoming thresholds of heights up to 152mm.
The legs are adjustable meaning they are suitable even when the height on either side of the doorway are different. Simply adjust the legs to your required height, place over the threshold and start using! They are provided with an anti-slip black grip surface. At 700mm wide, they are perfect to fit within doorways around the home.
Fibreglass Wedge Threshold Ramps
Designed for a variety of applications and situations, the fibreglass threshold ramp is a great option for people using manual wheelchairs and walkers who have a difficult time walking over an entrance way. The wedge design means this ramp can simply be placed by the threshold. Available in heights up to 150mm.
| Adjustable Fibreglass Bridge Ramp | Fibreglass Wedge Threshold Ramps |
| --- | --- |
| | |
| shop now | shop now |
Combination Channel Ramps
Suitable for manual wheelchairs only.
The Combination Channel Ramps are a perfect, lightweight solution for bridging thresholds for manual wheelchairs. They are available in lengths up to 10ft. The ramps are telescopic & folding for easy storage. The hinged part of the ramp allows you to easily bridge and overcome the threshold. In addition, the ramps can be used at full length to simply provide a 10ft ramp to allow you to overcome heights up to 50cm/20".
Our Premium Combination Channel Ramps offer slightly wider channels, with a width of 270mm. They are produced in Sweden and provided with a 5 year warranty.
Up & Over Ramp kit
Suitable for manual or powered wheelchairs
The Adjustable Threshold Ramp with Entry Plate is a perfect solution for manual wheelchairs, electric wheelchairs and scooters. The ramp can be left in place as it has an anodised, anti-slip surface. The entry plate can simply be flipped out of the way when not in use, allowing you to easily close the door. The external ramp is available in lengths between 2ft - 8ft, meaning the ramp is suitable for heights up to 405mm. For the smaller height (generally the internal height), where the entry plate is used, the height can be up to 120mm.
Folding Drive In Ramp
Suitable for manual or powered wheelchairs
The Swedish built Folding Drive In Ramp is perfect for thresholds up to 150mm. The lightweight, aluminium ramp can be left in place due to the fold-up tail design. Simply flip the second part of the ramp onto the main ramp area when the ramp is not required, allowing you to close your door. The ramp is perfect for PVC doorways and has a 300kg capacity.
Combine ramps are also possible
Up & Over Wheelchair Ramps Kit
Premium length folding ramp in combination with our standard Aluminium threshold used as a kit will combine the best of 2 ramps to provide a quick and easy ramp solution for access up to and over the threshold.
Premium length fold wheelchair TRP-XL ramps are available in 2ft, 3ft, 4ft, 5ft, 6ft, 7ft and 8ft lengths and our Standard aluminium threshold TRP-ST ramps are 700mm wide and available in two sizes 500mm and 760mm long, with a curved connection design it can be used to easily bridge any threshold and with rubber anti-slip to reduce threshold damage.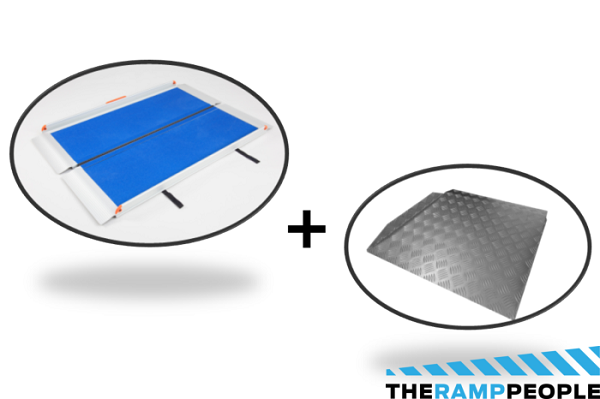 shop now
Rubber Threshold Ramp & Folding Wheelchair Ramp
Suitable for manual or powered wheelchairs and scooters.
If you would prefer 2 ramps, you can simply purchase a Rubber Threshold Ramp for the internal height, available in up to 4"/100mm. The Rubber Threshold Ramps can be cut to your required width with a stanley knife or saw. Normally you would simply leave the rubber ramp in place.
For the external height you can then purchase any of our standard wheelchair ramps, it can be folding, non-folding or even mulit-fold as long as they are suitable for the total vertical height of the steps, it can be from our economy wheelchair ramps range or from our premium wheelchair ramps range . If you are unsure of the length you require, use our simple Wheelchair Ramp Length Calculator
Generally, you will leave the rubber threshold ramp in place whilst the folding wheelchair ramp will simply be put in place when required, and folded away for storage when not in use.
Have any questions?
For more information, please see our frequent asked questions, FAQ's here or contact us for any further inquiry.