Removable Loading Bridges
Our portable dock plates have been specially designed for industrial dock settings where efficient loading is paramount. A lightweight yet durable construction means these removable dock boards can be used to load the combined weight of pallet trucks and pedestrians yet are easy to move around and store when needed. You'll find temporary dock plates are therefore ideal for dock areas with a smaller footprint or busy traffic where space and efficiency are just as important as durable loading. read more
Durable and portable dock plates
These removable loading bridges are manufactured from a lightweight aluminium, type 6005A. Using this unique lightweight material means these slim removable loading plates can be easily handled, transported and stored. A simple rest on connection ensures this whole process is as quick as possible, allowing the removable loading bridge to be set up and taken away easily. A fast paced loading dock area with a small foot print will find a temporary loading dock plate enables them to quickly load trucks while ensuring space is kept clear and safe when necessary.
With a high quality robot welded finish, you'll find our portable dock plates have a strong and solid design for reliable durability. Perfect for pallet trucks with low ground clearance, our removable dock boards can load up to 1300kg in weight. Tested to 200%, these temporary dock boards are ideal for frequent and long term use where reliability and safety are key concerns.
For added durability and even larger load capacities, take a look at our heavy duty dock plates.
Quality and customisable removable dock boards
You'll find a wide selection of portable dock plates to choose from, with lengths ranging from 750mm to 1800mm. This makes them suitable for a variety of capacities to meet almost any dock loading requirements. While each temporary loading bridge has a standard minimum width of 1.25m, the width is also fully customisable. The safest way to use these portable dock boards is to customise the width to the size of the vehicles load width.
Even without a custom width, you can rely on our removable dock plates to keep your dock area safe. Each one comes with a unique and highly reliable anti-slip chequer plate surface. This is a highly durable design that comes with a lifetime guarantee for safety you can count on time after time. You'll find these products come in both a lightweight and a heavy duty options.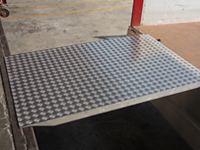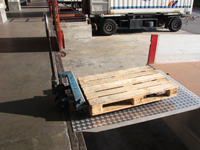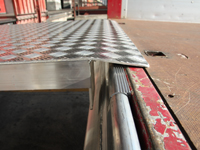 SKU
Capacity (kg)
Length (mm)
Max load height (mm)
Weight (kg)
Width (mm)
Price
TRP-RB750L
610
750
90
13
1250

£396.00

£330.00

TRP-RB750H
1300
750
90
20
1250

£408.00

£340.00

TRP-RB1000L
610
1000
120
17
1250

£510.00

£425.00

TRP-RB1000H
1300
1000
120
27
1250

£540.00

£450.00

TRP-RB1200L
610
1200
150
20
1250

£564.00

£470.00

TRP-RB1500L
610
1500
190
25
1250

£630.00

£525.00

TRP-RB1200H
1300
1200
150
33
1250

£672.00

£560.00

TRP-RB1800L
610
1800
230
30
1250

£690.00

£575.00

TRP-RB1500H
1300
1500
190
41
1250

£762.00

£635.00

TRP-RB1800H
1300
1800
230
49
1250

£852.00

£710.00
Our loading bridges come in a standard minimum width of 1.25m, but this can be widened to suit your needs – we recommend that your custom width be at least 0.70m larger than your load width. Ideally, for workers' safety, your loading bridge should be the same width of the transport vehicle's load width.
These ramps come with rest on connections – simply position your bridge between the transport vehicle deck and your loading surface (such as a loading bay) and go! All you need to ensure is that the rest on connections must rest against the load platform and transport vehicle deck for at least 0.10 m.
Lastly, ensure that the slope between the two surfaces should never exceed 12.5%, or 7 degrees.