Ramp Guide and Length Calculator
The Ramp People's Wheelchair Ramps are amongst the UK's best-selling mobility ramps and are used extensively in the NHS, the healthcare and nursing home industries, as well as by private individuals. We understand that specifying a ramp to suit your needs perfectly can be overwhelming, so we have written this guide to help ensure that you get the best ramp for your purposes.
Measurements
To ensure you select the correct ramp, first we will need the dimensions of the place you are placing the ramp, 2 simple dimensions first the total vertical rise from ground up to where the ramp will rest which we call "load height", second will be the total depth of the steps to ensure the ramp will be long enough to overcome the steps.

We also recommend checking to see if there is a height internally. For low internal heights, a rubber threshold ramp is often the perfect solution.
Ramp Length
For manual wheelchairs we would recommend a minimum gradient of 1:6. Thus, for example, for a 1 foot rise (load height) you'll need a 6 foot long ramp. For mobility scooters we recommend a minimum gradient of 1:8. Thus, for example, for a 1 foot rise (load height) you'll need a 8 foot long ramp. Mobility scooter ramps need to be longer due to the low ground clearance. If you have space you can always purchase a longer ramp than recommended as it will simply mean you will have a smoother gradient. To find the ramp length you require, you can use our simple Wheelchair ramp calculator by clicking on image below: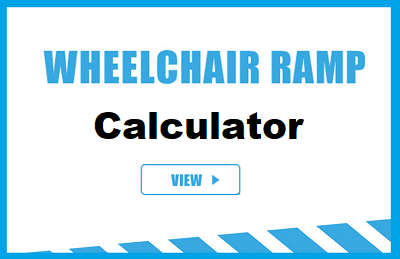 Width
It's worth remembering that your ramp needs to be wide enough to accommodate your wheelchair/mobility scooter, yet narrow enough to fit into the threshold you are bridging. We offer a range of widths. Our economy folding ramp is 720mm wide, we also offer an extra wide folding ramp which is 850mm wide. For narrow doorways we suggest viewing our channel ramps, please note these are only suitable for manual wheelchairs.
Buying for a Business ?
Wheelchair ramps are one of the easiest ways to make your business instantly accessible for disabled customers and most of the time you can achieve accessibility, please check our making your business accessible resource centre. In this resource centre, you'll find plenty of handy guides and tips on everything from the importance of accessibility in business.
If you need any help specifying a permanent or semi-permanent wheelchair ramp, do give us a call.

Contact Us
The Ramp People are proud members of the BHTA and full subscribe to the BHTA Code of practice.