Heavy Duty Loading Bridges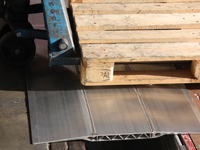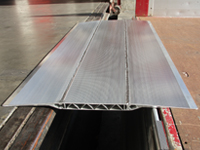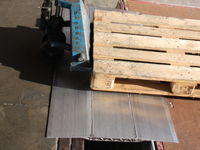 SKU
Capacity (kg)
Length (mm)
Max Load Height
Min. Load Height (mm)
Weight (kg)
Width (mm)
Price
TRP-627/2TL
3420
627
75
-75
22
1250

£684.00

£570.00

TRP-752/2TL
2895
752
90
-90
24
1250

£696.00

£580.00

TRP-877/2TL
2510
877
105
-105
28
1250

£816.00

£680.00

TRP-1000/2TL
2215
1002
120
-120
32
1250

£858.00

£715.00
We recommend that your custom width be at least 0.70m larger than your load width. Ideally, for workers' safety, your loading bridge should be the same width of the transport vehicle's load width.
These ramps come with rest on connections – simply position your bridge between the transport vehicle deck and your loading surface (such as a loading bay) and go! All you need to ensure is that the rest on connections must rest against the load platform and transport vehicle deck for at least 0.10 m.
Lastly, ensure that the slope between the two surfaces should never exceed 12.5%, or 7 degrees.
Our heavy duty loading bridges are similar to our removable loading bridges but designed to handle much larger capacities. Manufactured from high grade yet lightweight aluminium, these heavy duty dock boards are perfect for heavier pallet trucks with a low ground clearance and can load almost double the weight of our removable dock boards. read more
Heavy duty dock plates
Designed to be highly durable, these heavy duty dock boards are robot welded for a strong and solid construction. With a lifetime guarantee on our reliable anti-slip surface, these heavy duty loading bridges or ideal for the long term and consistent use often experienced as busy loading areas. Thanks to their high quality construction, our heavy duty bridge plates can handle capacities up to 2215kg and are tested up to 200% as well as fully TUV certified for guaranteed performance.
Loading bridges built for flexibility
Despite their highly durable construction, you'll find all our heavy duty loading bridges are still lightweight and built for easy handling like many of our other loading bridges. Perfect for quick and easy set up with a simple rest on connecting, they are surprisingly flexible to and ideal for the fast paced and changing needs of a busy loading dock. While you view fixed widths for the range of lengths we offer, you can also request a completely customised width for your heavy duty dock plate to better fit your lorries or trucks and provide additional safety.